YAWEI's IMPRESSIVE NUMBERS IN 2022
2022 is considered a memorable year for Yawei in terms of the number of metalworking machines present in 22 provinces and cities on the S-shaped strip of land. From January to December 31, 2022, Weldcom has provided The total market of 138 Yawei products including laser cutting machines, bending machines, folding machines, slitting machines came to 86 Vietnamese enterprises.

84 BENDING MACHINE
Weldcom recorded the percentage of Yawei presses signed and handed over successfully, 3 times higher than the total supply in the period of 2019 – 2021. Thanks to its outstanding efficiency in accuracy and processing speed. quickly, Yawei press machines are not only widely known by the mechanical community but also used by enterprises, and continue to invest in more machines to continuously improve production efficiency. This result helps Weldcom firmly maintain the Top 1 position in the domestic market in terms of distribution capacity of Yawei products despite the effects of the Covid pandemic and strong fluctuations from the international market.
51 CNC LASER MACHINE IN THESE 13 LASER CUTTING MACHINE OVER 12KW
Yawei laser cutting machine helps to improve cutting productivity and save time and costs. In particular, the trend of using high-power Yawei CNC laser cutting machines for commercial cutting and steel structure production is becoming a bright spot when units have had the right perception of the efficiency of the equipment. bring.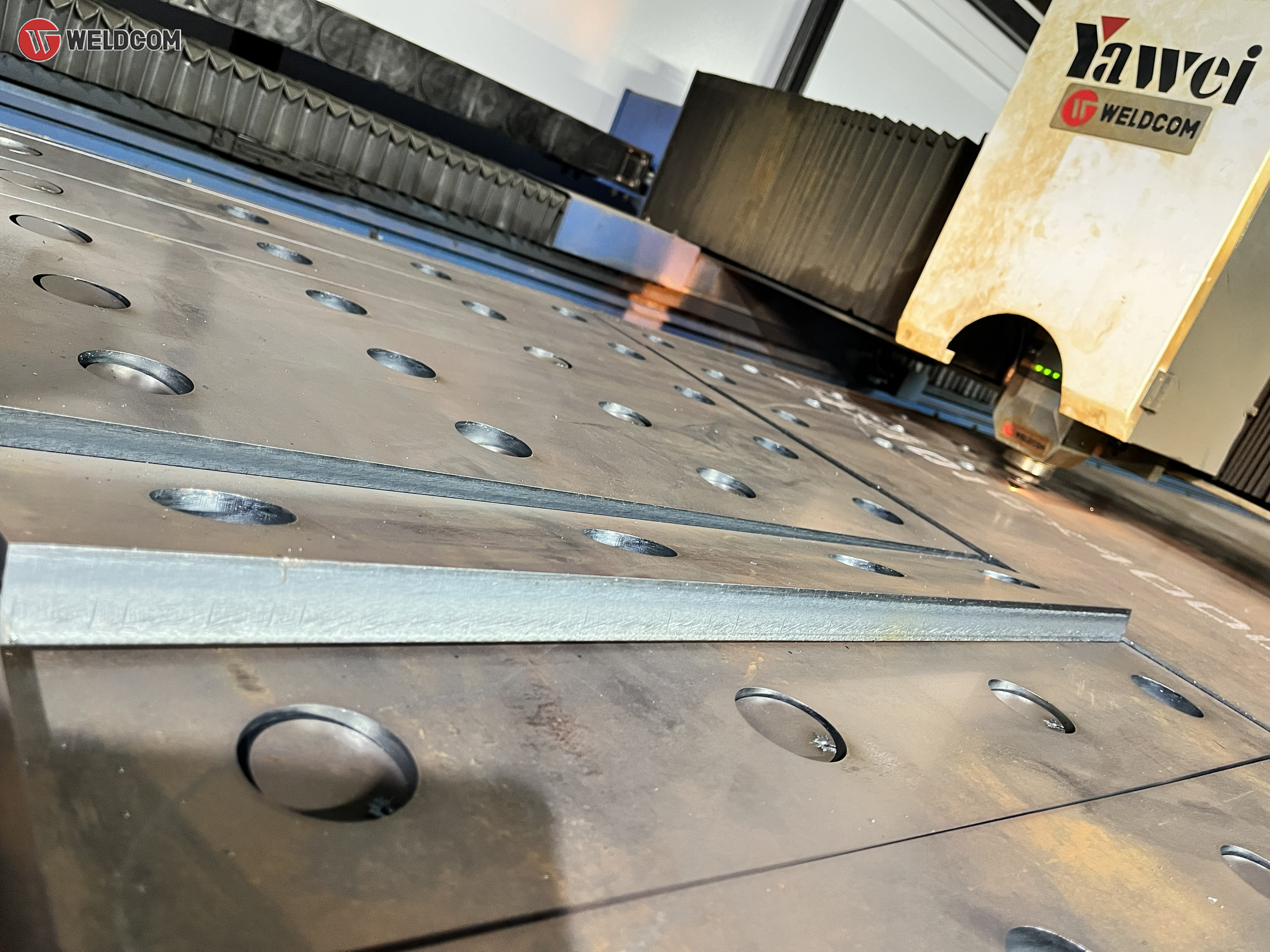 Sharp cutting surface with high precision from Yawei laser cutting machine
At the forefront of using laser machines of large capacity and size are enterprises: Dai Dung Steel Structure Joint Stock Company, Seico Steel Frame House and Industrial Equipment Joint Stock Company, Amecc Construction Mechanical Joint Stock Company, Huy Thanh Mechanical and Metallurgical Co., Ltd… And especially, Thien Truong Manufacturing and Trading Co., Ltd. – The leading steel structure manufacturing enterprise in the North – has invested in 2 laser cutting machines with a capacity of 15, respectively. KW and 1 20KW power cutter from Yawei from 2021 to 2022, and the business will continue to equip more machines next year.

3 large power Yawei laser cutting machines at Thien Truong Trading and Production Co., Ltd
Along with that, many processing establishments, households and businesses in traditional mechanical craft villages also boldly innovated modern processing equipment. Typically, at Phung Xa Industrial Cluster, Thach That – one of the leading mechanical processing centers in the North – contributed 50% of the production of high-power Yawei laser cutting machines Weldcom distributed in the region during the year. North, contributing to help units quickly catch up with the investment trend of the market. With the product quality has been confirmed, and the variety of laser sources from Weldcom provided such as IPG, Raycus, Max, helping to optimize investment costs, will be the driving force for small and medium mechanical enterprises. actively and boldly innovating modern technology in order to improve competitiveness in the country's mechanical processing industry.
So an old year officially ended, and opened a new journey with many promises waiting ahead. With our efforts to achieve in 2022, we will constantly try to bring more Yawei's best quality products to mechanical enterprises in Vietnam in 2023.
TIN LIÊN QUAN