JASIC WELDING MACHINE MANUFACTURER TO VISIT VIETNAM MARKET
From 03/03 to 03/08/2023, representatives of Jasic Company had a visit to Vietnam's mechanical market and met with strategic partner Weldcom. The visiting delegation included Ms. Carmen – International Sales Director, Mr. Gordon – Head of Technology Department and Ms. Yan – Southeast Asia Sales Manager.
With the desire to witness the whole of the current Vietnamese mechanical market, the JASIC representative learned about the realities that are happening in commercial streets and traditional markets in Hanoi and Ho Chi Minh City. JASIC expressed optimism and said that Vietnam is the "promised-land" of mechanical equipment and solution providers. For this reason, Ms. Carmen confirmed that "Vietnam is one of the 5 largest revenue markets for Jasic Company worldwide."
Besides the potential for development, the problem of counterfeit, poor quality, and unknown provenance production is very serious today. Since cooperating with Weldcom in 2011, JASIC has become a popular and prestigious brand of welding – cutting machines, trusted by millions of people and occupying the number position in the Vietnamese market. Therefore, it is not surprising that JASIC products have become the subject of imitations. Especially, scams are increasingly sophisticated, making it difficult for sellers and buyers to distinguish the real product if they don't have enough professional knowledge.
Faced with that situation, JASIC and Weldcom are both deeply aware of their mission to prevent counterfeit goods and poor quality, for the Vietnamese mechanical community can experience the best genuine products with the best service.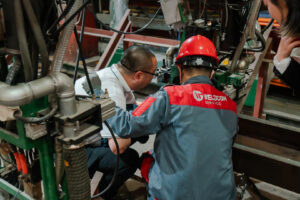 On this business trip, Ms. Carmen and experts visited Weldcom's head office in Hanoi, Duc Giang Technology Center, standard stores, and franchised stores with general agents in Weldcom's distribution system. The visit confirmed the strategic cooperation relationship between the two leading companies in the mechanical field in China and Vietnam.
In the near future, JASIC will continue to work with Weldcom – the exclusive distributor in Vietnam to bring more advanced technology products and high-end accessories. These efforts will open opportunities for domestic consumers to approach and use genuine high-quality products, contributing to narrowing the gap between Vietnam's mechanics and the world.
Let's review memorable images of representatives Jasic and Weldcom:
TIN LIÊN QUAN