JASIC JOIN THE RACE OF LASER WELDING MACHINE IN VIETNAM
Laser welding technology is a new trend in the field of processing thin to ultra-thin sheets or boxes/tubes in Vietnam in recent years. Not out of the game, JASIC has cooperated with Weldcom and launched 2 lines of laser welding machines LS-15000 and LS-20000. Thanks to its outstanding advantages in terms of quality, performance and cost, the product promises to be a popular welding equipment and widely applied in factories and mechanical enterprises.
JASIC is a "national welding machine" brand, which has been tested for quality, won the trust of millions of mechanics and has occupied the No. 1 market share in Vietnam for nearly 20 years. Inheriting the group's production background and R&D capabilities, JASIC laser welding machine products carry a series of outstanding advantages.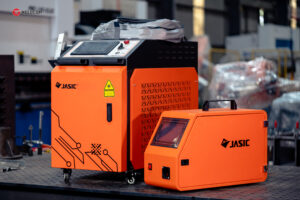 First of all, this is one of the most compact laser welding machines available today with a design to perfection. The total size of the machine is 980 x 420 x 710 (mm). This feature greatly saves the workshop area and increases the mobility of the machine, making it easy to carry to the construction site. The body is equipped with additional gun mounts, and the soft handle makes it easy to move in the work area.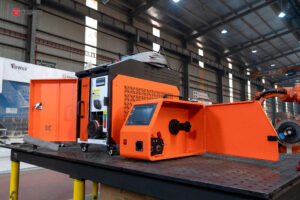 JASIC laser welding machine for outstanding productivity, reduced labor costs, training time and fast payback. The machine is 10 times faster and does not require skilled engineers like TIG welding. The ability to focus energy is good for welds with extremely small distortion, smooth, beautiful and precise welds. As a result, businesses can almost completely eliminate the steps of cleaning and processing welds, etc. In particular, products from carbon steel can be powder coated right after welding, for finished products to reach great aesthetics.
LS-15000 and LS-20000 can weld a variety of materials such as carbon steel, stainless steel, aluminum with thickness from 0.5 to 6mm. In stainless steel or aluminum welding applications, JASIC laser welding machines can easily work on many shapes of materials, from small and delicate details to large pipes, frames, and troughs. This promises to be an effective solution for manufacturers of stainless steel sinks, electrical cabinets, light troughs, industrial fans, metal box/tube products, door frames, railings, stainless steel stairs…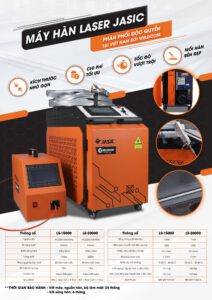 The machine includes 2 power levels 1500W and 2000W. The product is equipped with a dedicated laser welding source, a Hanli cooler, an ultra-light SUP20S welding gun and a controller integrated with a touch screen LCD screen and 100% high-end accessories. All strictly comply with JASIC's strict quality standards.
The LS-15000 and LS-20000 are covered by a 24-month warranty on the body, laser source and cooler; 6 months with welding gun. Products are currently distributed genuine only by Weldcom our agent system.
For more information or to schedule a free trial, please contact:
WELDCOM INDUSTRIAL JOINT STOCK COMPANY
Hotline: 19009410
Website: Weldcom.vn
Address: No. 285A, Ngo Gia Tu Street, Long Bien, Hanoi
TIN LIÊN QUAN