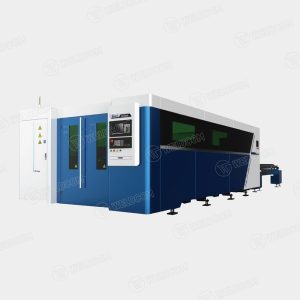 Quality meets European standards, is rated as China's No.1 laser cutting machine product.
New styling with marked improvement in cutting performance.
High performance, high speed, acceleration reaches 2.0 – 2.8G.
Gate-shaped machine structure, parallel two-rail movement, moving beam made of monolithic aluminum alloy, conversion table allows double working productivity, working table height is always kept at a fixed level thanks to the mechanism. hydraulic lift.
High-end accessories: IPG laser source, Precitec cutting head, Siemens controller, Schneider electrical components
Super fast cutting speed for thin materials, stable cutting for medium and thick materials.
The combination of laser angle cutting technology and advanced numerical control technology, accompanied by a humanized HMI interface and an upgraded professional laser cutting database.
Automatically adjust air pressure, cutting power, cutting speed according to material thickness.
Automatic calibration feature allows good cutting of warped sheets.
Automatic cutting head cleaning feature.
Combined with the world's number one Sigmanest nesting software for optimal cutting, efficient material management.