Yawei HLA Series Opentype fiber laser cutting machine
Thương hiệu:
Mã sản phẩm:
Mô tả sản phẩm:
Compact structure and small footprints
The cutting area is open for easy loading and unloading, adapting to a variety of venues and use environments
The dust removal port is close to the lower part of the cutting area,greatly improves the dust removal efficiency and ensures the long-term stable operation
The plate welding frame is matched with the aluminum alloy beam to meet the requirements of high acceleration motion
Separate electric control cabinet can adapt to the spatial arrangement of different venues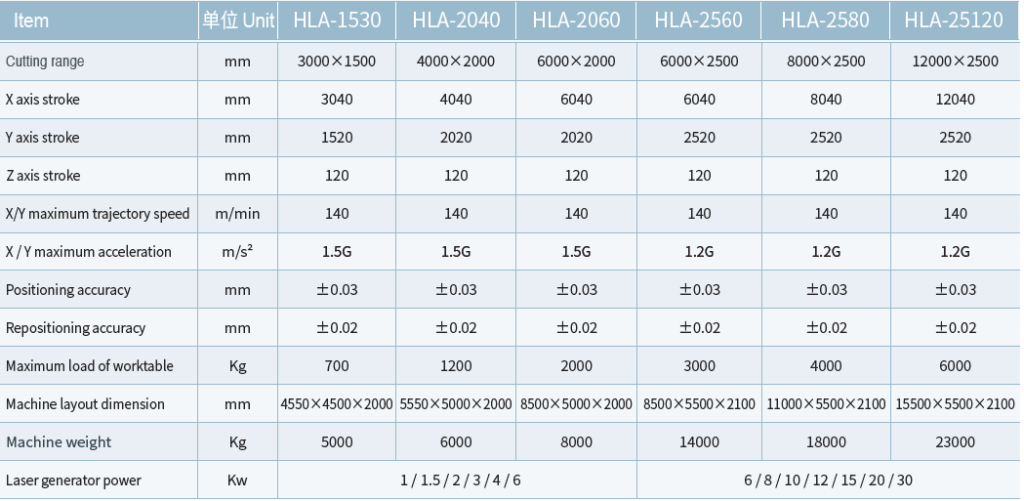 For more information about Yawei machine, please contact us via hotline: 19009410 or share your information.
Yawei HLA Series Opentype fiber laser cutting machine
(

0

customer reviews)
Khách hàng nhận xét về sản phẩm
Related products
Latest design, high performance, world standard high speed laser cutting machine version.
Safe operation, clean environment meets European standards.
Mechanical structure, strict production standards. X-axis machined by alloy steel for high travel speed and withstand large torque and acceleration.
The control system, driver, and Siemens synchronous motor provide precise control, anti-interference and high stability.
Inheriting the perfect development of HLF features for the best cutting quality and punching ability.
Equipped with the latest technology and features for easy fault diagnosis, maintenance and operation.
Easy integration of 4.0 smart factory solutions.
Combined with the world's number one Sigmanest nesting software for optimal cutting, efficient material management.
VIEWED PRODUCTS
You have not viewed any product yet!