Product introduction
lSF3015G fiber laser cutter reaches the top level in China, which is customers'best choice in metal industry.
lThe bed is welded by precise welding process after annealing and aging treatment, and the beam is airborne aluminium castings.
lFor the more, the running speed of the machine can reach 80 m/min.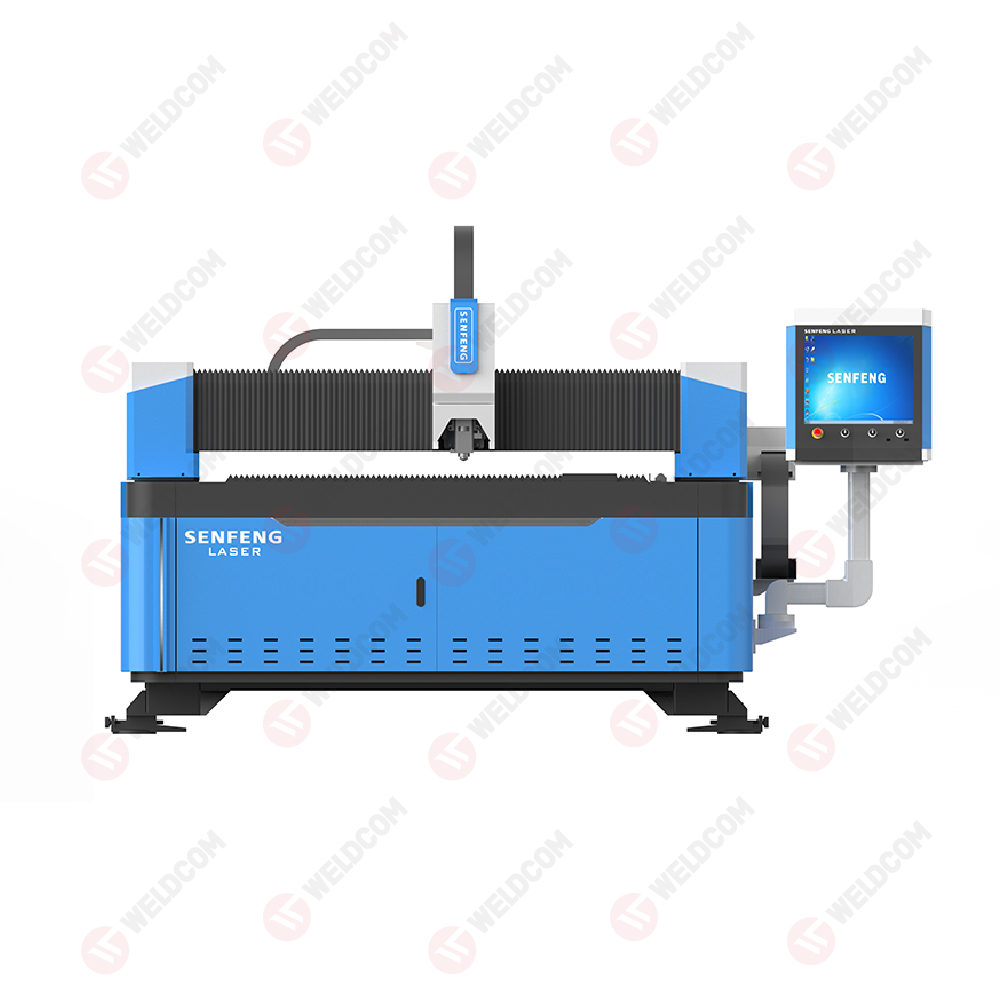 PARAMETERS
Item
Parameter
1.5kw
2KW
3KW
4KW
Work Area
3000*1500mm
 X-axis Travel
1500mm
 Y-axis Travel
3000mm
 Z-axis Travel
100mm
Positioning accuracy
±0.05mm
Repeated positioning
±0.02mm
Maximum speed
80m/min
Maximum acceleration
0.8G
Machine Total weight(KG)
2280
2390
2530
2770
Table maximum load(KG)
700
Outline size(mm)
4626*2950*1900mm
Power parameters
Three-phase AC380V 50Hz
Protection Level of Total Power Supply
IP54
Configuration
NAME
NO.
BRAND
 fiber laser
1 set
Raycus
Laser head
1 set
Raytools
Transmission
4 set
TAIWAN LAPPING/SENFENG
Machine bed accessories
1 set
SENFENG
Motor reducer
3 set
EREFAT GERMANY
Electrical and pneumatic
1 set
SIEMENS GERMANY

JAPAN SMC/TAIWAN AIRTAC

Server motor and driver
5set
TAIWAN DELTA/FRANCE SCHNEIDER/CHINA INOVANCE
Water cooling
1 set
HANLI
Control system
1 set
FSCUT 2000
Main Features
High strength machine bed
High-strength machine tool, adopting 600℃ high temperature annealing treatment, with integrated machine rigidity
The overall mechanical structure has small deformation and low vibration, ensuring cutting accuracy.
Strong Aviation Aluminum Beam
The use of aviation-grade high-strength aluminum alloy beams, light weight, low inertia;
Built-in triangular reinforced structure, strong rigidity, good shock absorption;
Rough machining after annealing to eliminate internal stress, and fine machining after secondary vibration aging treatment to ensure Improve the overall strength and stability of the beam.
Automatic gas distribution device for auxiliary gas
SF3015G CNC laser cutting machine can control the oxygen automatically and control its flow and pressure independently.
The type and pressure of the auxiliary gas can be automatically set and selected through the numerical control program, without manual operation.
The pressure of compressed air and oxygen can be adjusted between 150 mBar and 6 Bar, and the pressure of nitrogen can be adjusted between 150 mBar and 25 Bar.
In addition, the actual air pressure at the exit of the cutting head can also be easily read and displayed on the panel in real time.
Automatic Focusing Fiber Laser Cutting Head
This kind laser head has a strong advantage on medium power large format fiber laser cutting application.
Completely sealed internal structure of laser head can avoid optical part polluted by dust.
Two point centering adjustment of laser head; the focus adjusting take imported motor driving and has great improvement in perforation.
Protective lens take more convenient replacement drawer installation way.
Can be equipped with various kind of QBH connectors laser machine.
Raycus Laser Device
It has the advantages of high electro-optical conversion efficiency (>40%), good beam quality, high energy density, wide modulation frequency, strong reliability, long life, and maintenance-free operation.
It can be widely used in welding, precision cutting, cladding, and surface treatment , 3D printing and other fields.
FSCUT2000 medium and low power laser cutting system
Convenient installation, easy debugging, excellent performance, complete solutions, stable and reliable, easy deployment, easy debugging, safe production, rich functions, excellent performance, etc.;
support and provide modular, personalized, automated, and information solutions that can be realized Memory cache, powerful cutting process database, all kinds of cutting parameters of different thicknesses and different plates, fast operation and efficient cutting.
Transmission System
High precision, long life, can provide rigorous support for quenching helical gears and grinding helical gears, so that the load drive structure is compact, can effectively reduce the driving torque.
Water Cooling System
Large cooling capacity, stable performance, trouble-free, clean water quality, good heat exchange effect with fiber laser, and linkage signal to protect the laser.
Height Controller
Circuit board
Automatic Lubrication System
Lubricating the guide rails of X axis.Y axis, Z axis automatically, which could reduce maintenance cost and save time significantly.
Oiling time can be adjusted.
According to processing.
Amount, which is more humanized.