JASIC LASER WELDING MACHINE GRADUALLY POPULAR IN MEDIUM AND SMALL MECHANICAL FACILITIES
After 4 months of launching in Vietnam, JASIC laser welding machine has been receiving positive feedback and quickly "covered" the market. Notably, up to 70% of customers choosing this product are owners of small and medium-sized mechanical workshops, specializing in the production of furniture, decorative materials, gates, railings, … It can be said that the new "war horse" of the "national welding machine" brand JASIC is gradually replacing TIG welding products, becoming an inevitable trend in the current thin plate/box/tube processing industry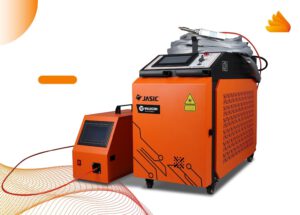 The most optimal solution for thin plate/box/tube welding
JASIC laser welding machine can weld on thin materials such as stainless steel, aluminum, carbon steel, ..with a thickness of 0.5 to 5mm. Raycus laser welding source is large and durable, making the machine work stably and continuously for a long time. The welding gun has high precision, high energy concentration, very small heat affected area, for welds with standard penetration and excellent aesthetics. With the JASIC laser welding machine, welders can easily manipulate long and complex welds. This is definitely the best welding equipment for all furniture manufacturing facilities, decorative items, gates, railings, etc. up to now.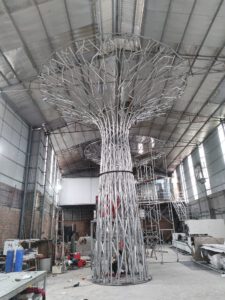 Significant savings in operating costs
Actual testing shows that JASIC laser welding machine is 5 to 10 times faster than TIG welding method. The weld is smooth, beautiful, and shiny. The factory can almost skip the smoothing, polishing, and post-weld treatment steps. As a result, work productivity will be increased significantly.
Not stopping there, JASIC laser welding machine also helps business owners to thoroughly solve the problem of human resources. A skilled TIG welder needs a lot of training time, finding people is difficult, keeping people is even harder. The salary paid is also very high, averaging from 600,000 to 800,000 VND/person/day. Using JASIC laser welding machine, anyone, male or female, skilled or common, can weld beautifully after only a few times of instruction.
Reasonable investment costs
Compared to 3 years ago, the cost of laser welding machines in general has decreased significantly. Therefore, small and medium-sized factories can easily access this product line. Entering the Vietnamese market from the end of 2022, JASIC laser welding machine launched two models LS-15000 and LS-20000 with very competitive prices. Along with a series of outstanding advantages in speed, aesthetics and user-friendliness, JASIC has become an effective tool for hundreds of factory owners to optimize operating costs and increase productivity and product quality.
Quickly catch up with the laser welding trend in the field of box/tube/thin sheet processing with JASIC laser welding machine – the "national welding machine" brand that holds the No. 1 market share in Vietnam. Contact hotline 19009410 for advice and schedule a free demo!
TIN LIÊN QUAN