WHEN SHOULD I CHOOSE ROBOT INVESTMENT IN PRODUCTION?
Currently, it is undeniable that the benefits that robotic automation bring to production and business activities. For those units, after having learned and understood the reasons and economic benefits that robots bring as well as seeing the real problems they are facing, it is definitely time to ask a question: "When should businesses decide to invest in robots in production?".
These questions occur in most businesses, especially small and medium enterprises. In this article, the automation experts of Weldcom Industrial Joint Stock Company will show you the basic criteria that determine whether it is time for your factory to step up investment and upgrade industrial robots into production?
Actual production needs:
Production with large output: One of the biggest benefits that robots bring is the ability to operate and work with high intensity. Therefore, the labor productivity of the robot will be many times higher than that of ordinary workers. For factories with large production needs and urgent delivery times, industrial robots will be the optimal choice with the ability to work continuously, without needing to rest so they can fully guarantee the output and meet the order schedule.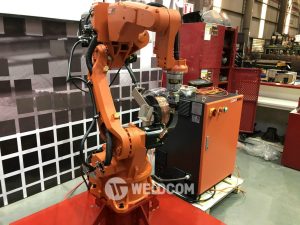 Weldcom QJAR welding robot QJRH4-1A exclusively distributed by Weldcom is receiving high praise from customers for its quality and investment efficiency.
High requirements on finished product quality: Faced with competitive pressure and increasingly strict requirements of the market for products of high quality and stability, uniformity will be the driving force for many businesses to decide to invest in robot automation. The application of robots can produce high-quality finished products in a uniform manner, minimizing the rate of errors and product failures when robots are not affected by psychology, health and work distractions like humans. . This is especially important for those producing export products that require strict quality standards. In addition, with production-specific products such as welding of transformer casings, welding of aluminum materials, etc., using welding robots will maximize the quality of welds and meet finished product requirements and does not depend on the skill of the welder.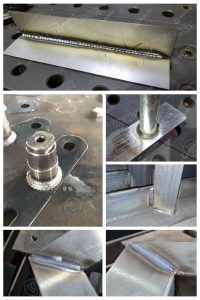 Application of welding robots in production for high quality welds with high accuracy and stability
Current status of production resources of enterprises:
Properly and objectively assessing the current situation of production resources of your business will help give the most accurate view on whether to invest in robots and when is the right time.
Enterprises are using outdated production lines: Most small and medium enterprises in Vietnam are facing this situation when the production lines are mainly machines that have been invested for a long time and degraded or used dump machines, old machines with outdated technology and frequent breakdowns causing production interruptions. Especially for businesses that have applied robots to production lines, but many of them are dump robots with unclear origins, replaced parts and not regularly maintained is the leading cause of finished product quality and limited production capacity. If your factory is facing this situation, this can be considered as a criterion that should not be ignored to decide to invest in robots early and improve the production capacity of your business.
Having human and financial resources to meet the investment and technological innovation goals: With limited financial resources as well as a shortage of qualified human resources and the ability to master technology, many small and medium enterprises have made investment and technological innovation far-fetched. However, now, with a wide product range and many attractive support policies and the ability to train and transfer technology quickly, Weldcom has consulted and provided many SME businesses in Vietnam with robots. relevant and effective. We found that it is the small and medium-sized production units with the ability to flexibly change the production model that will easily access and convert to robot automation to solve the "pain points" about their technology and establish a harmonious, efficient production model.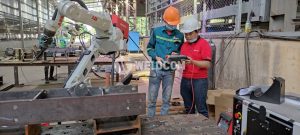 Weldcom experts in a technology transfer training session for workers at a customer's factory
Many Weldcom customers confidently operate and master technology after being trained by a team of experts
Automation trends and technological innovation thinking of business owners:
It is not difficult to see that the current time is when the automation trend is booming in the manufacturing sector. Especially, the Covid-19 pandemic has completely changed the traditional production mindset, encouraging the automation process to take place more strongly, forcing production units to make changes if you don't want to be left behind.
In this context, it is the acumen of business owners' technological innovation thinking that will determine whether they can promptly seize the opportunity and go far in the future. Businesses that are sensitive to the market, have access to a lot of information about new technologies as well as have the courage and determination to invest will be the most suitable customers for investment and upgrade the robot into production.
Contact information: WELDCOM INDUSTRIAL JOINT STOCK COMPANY
Hotline: 1900 9410
Website:weldcom.vn
Address: 285A Ngo Gia Tu, Long Bien, Hanoi
TIN LIÊN QUAN