THANH TIEN MANUFACTURING TRADE CO., LTD – TRUST COOPERATION, DEVELOP WITH WELDCOM
Throughout the process of cooperation and providing machinery and technology solutions for Vietnamese mechanical enterprises, Weldcom has had the opportunity to become a prestigious partner of many well-known enterprises in the industry. In the Northern region, Thanh Tien Trading Production Co., Ltd. is a leading unit in the sheet metal processing industry, and also a typical customer of Weldcom with a sustainable cooperation relationship and trusted for many years.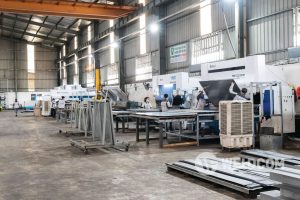 Thanh Tien Trading Production Co., Ltd was established in September 2010 with the first factory located in Lai Xa, Kim Chung Hoai Duc, Hanoi. The company operates in the field of sheet metal processing with strong product lines such as: safety steel doors, fireproof steel doors, industrial steel doors, anti-radiation lead coated steel doors, trough ladders. … In addition, Thanh Tien is also the leading unit in the service of laser cutting, bending, CNC punching in Vietnam.
Laying the first foundation for this good relationship must be in 2018, when Thanh Tien started importing the first machines provided by Weldcom for his factory. Up to now, after 3 years of working, Thanh Tien Trading Production Co., Ltd. has made great progress in the field of production and business when expanding the scale of production with more modern machinery and equipment, and increasingly optimized management process.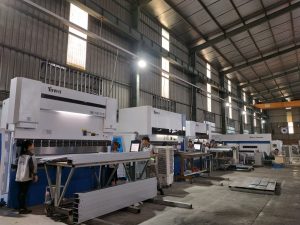 Thanh Tien Trading Production Co., Ltd
It can be said that this is one of the leading mechanical enterprises in updating trends and applying new technologies to production. Understanding the value of modern technology for the production field, Thanh Tien has continuously invested and applied the most advanced technology to its production line machinery system. In which, Weldcom has exclusively distributed and provided Thanh Tien with a system of 12KW, 20KW HLX laser cutting machines, bending machines with models PBE, PBC, PBH, punching machines HPE, HPC and synchronous HGSK hydraulic slitting machine. All of Yawei – top 10 CNC machine manufacturers in the world. These Yawei devices are optimally integrated with the most advanced technologies such as DELEM controller from the Netherlands and SIEMENS from Germany, NISHIBO technology from Japan for punching machines, and Prima technology from Italy for laser cutting machines and Swiss SMS technology for bending machines, ensuring to meet the high requirements of precision and finished product quality of the sheet metal processing industry.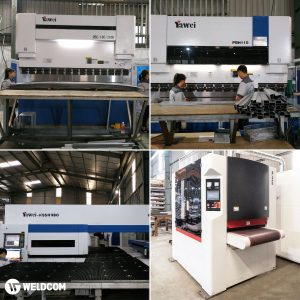 Modern machinery and equipment system at the company's factory
In particular, to kick off the process of opening a new factory with a scale of more than 10,000m2 in Dong Soc industrial cluster, Vinh Tuong, Vinh Phuc officially put into operation in July 2021, Thanh Tien has trusted in cooperation. and continue to choose Weldcom as a partner to provide synchronous production lines and new machines to serve the production needs of both facilities such as HLX 20KW, HLA 2KW laser cutting machines, CCD video recognition equipment …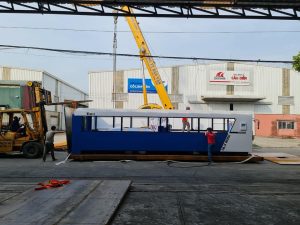 Prominent among them is the 20KW HLX 2060 laser cutting machine – the largest capacity in Vietnam today. With the outstanding advantages of fast cutting speed, outstanding product quality and the ability to cut thick materials, investing in a 20KW cutter is considered a timely step and demonstrates the agile vision of the company's board of directors when facing the increasing demands of the market for product quality and productivity improvement along with the pressure of increasingly fierce competition.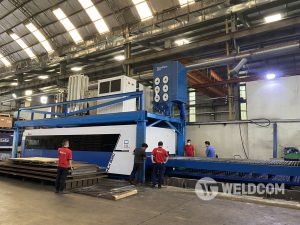 Yawei HLX 2060 laser cutting machine 20KW
Moreover, this can be seen as the result of the whole process of investing efforts to improve the capacity of the enterprise's technical machinery system. In fact, it is the modern machinery and equipment that the company has invested in in the past that has helped the factory's productivity to be significantly improved, finished products always have accuracy, aesthetics and superior quality products compared to the common production market. Therefore, Thanh Tien Trading Production Co., Ltd always meets all requirements for quality, art according to the strictest standards, meeting the delivery schedule, the progress of supply and installation is complete for all projects and receives high appreciation from customers. Therefore, even in the context of the epidemic, when other businesses were still struggling with production and business problems, Thanh Tien quickly invested in a 20KW large-capacity laser cutting machine to further meet the needs of the market, improve its position in the industry. With the current production capacity, Thanh Tien is completely confident to be able to meet orders with high requirements on work progress, as well as ensure quantity and quality requirements.
As a reliable companion, witnessing the development of the business, Weldcom feels more loved and proud of the work we are doing. The success of partners is also the success of Weldcom. As a leading supplier of machinery and technology in the mechanical processing industry, as well as a turnkey solution for thin processing lines in Vietnam, we will always strive to deserve its position and to get more and more success stories and good cooperation like at Thanh Tien.
TIN LIÊN QUAN