WELDCOM WITH AGENT: BUSINESS & SUSTAINABLE DEVELOPMENT
The modern retail form in the business of mechanical equipment and hand tools is increasingly expanding, developing and receiving the love of customers in Vietnam.
In the past, to buy welding and cutting machines and accessories for mechanics, customers would go to traditional electrical and mechanical stores. The process just stops at the experience: the customer says what they need to buy, the seller takes it, the buyer pays and then leaves. This is a completely one-way experience, mainly based on the experience of sellers, buyers in many situations are not even allowed to try their products before paying.
Currently, this form of retail is having a big shift, when price is no longer the top criterion that customers care about. They need genuine products, quality assurance and warranty policy, quick and convenient repair. In a quick survey of customers buying accessories, the level of interest in the group of buyers who are directly operating the machine and the group of factory owners when buying materials is similar to genuine goods and costs. That is, they are willing to spend more to buy the right genuine product. User buying behavior has changed in a positive and civilized direction for retailers.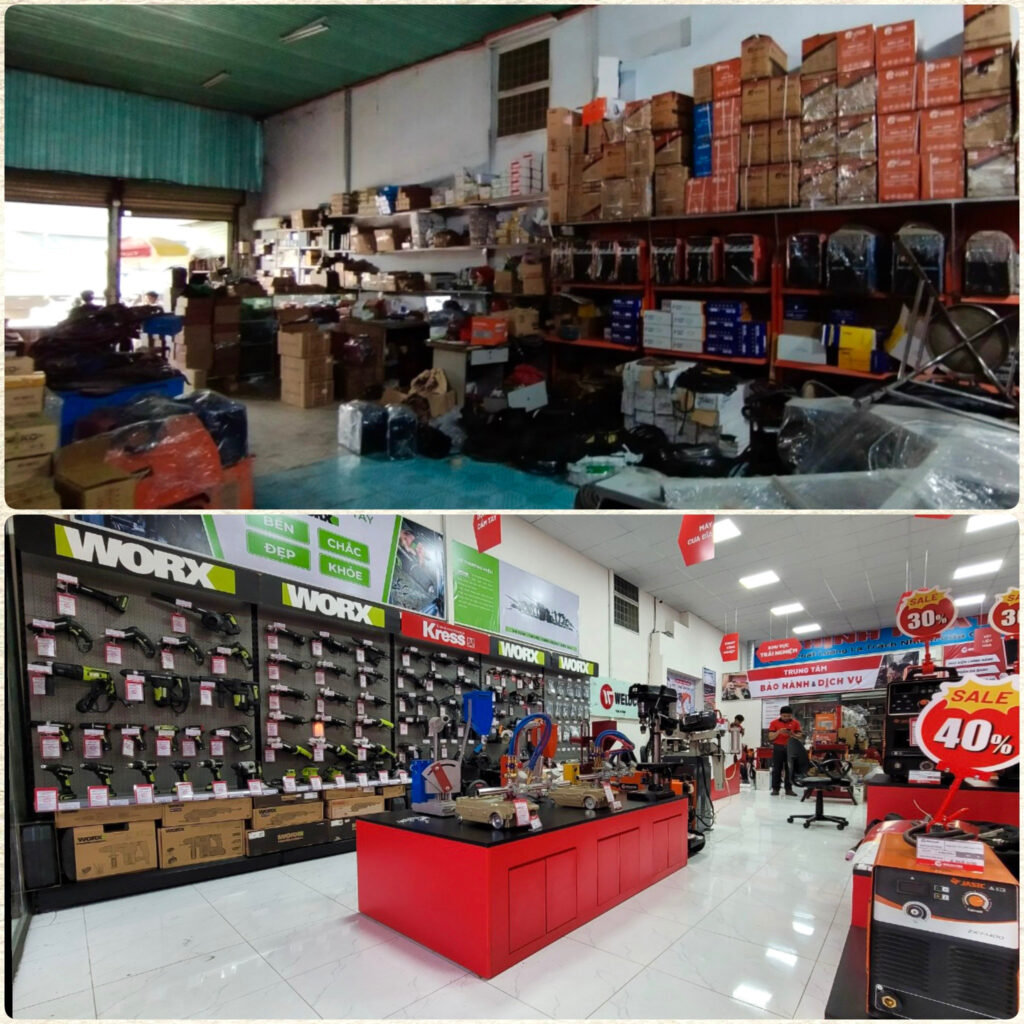 Shop before and after becoming a Weldcom Franchise
Grasping that mentality, Weldcom has built a chain of stores and franchise agents in 25 provinces and cities nationwide. All are aimed at giving customers a better experience when shopping for mechanical equipment.
Accordingly, as soon as they step into the store, customers will be consulted about products that are suitable for their needs. A special feature at each Weldcom store is a dedicated trial area. Here, customers will be guided to try the machine by a team of dedicated and skilled technicians. Customers are allowed to experience, feel and make choices and reviews about products. After payment, the staff will pack according to the standards, support to carry, carry and fix the goods firmly to ensure that they are not dropped or jostled during transportation.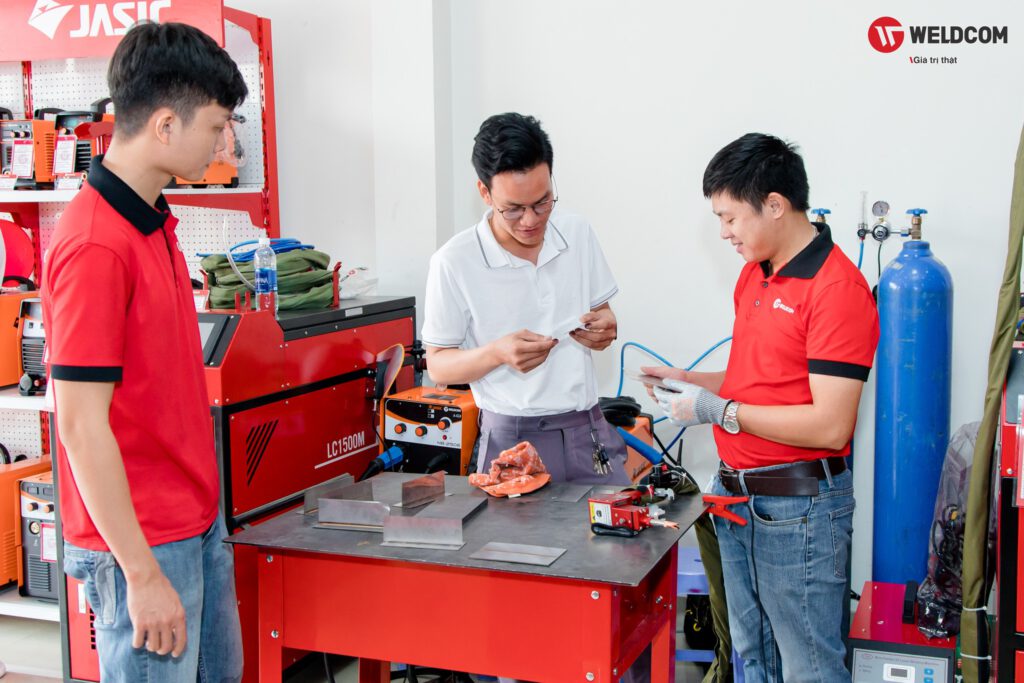 Trial area at the store, Weldcom dealer
synchronously invested in brand identity, each Weldcom store is scientifically arranged according to the buying journey. Visitors can easily make comparisons and evaluations between products in the same group.
As noted from the report of the franchise store, a well-invested point of sale to identify and ensure the customer journey can grow and reach 800-1000 visitors/month. For the mechanical equipment retail sector, this is a very impressive result. Customers coming to see the goods are very easy to close orders, the sales of stores and agents have increased significantly.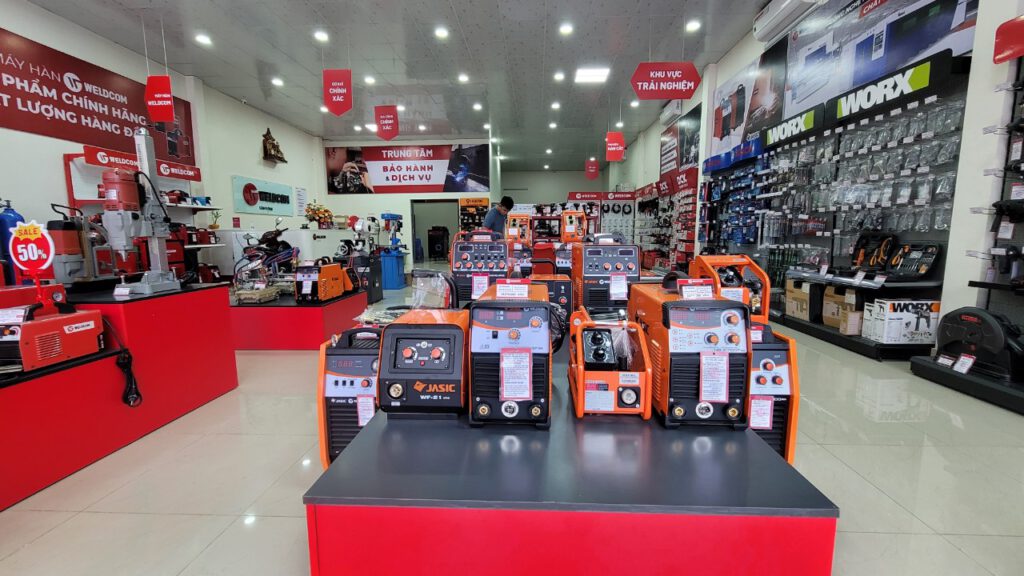 Especially important in the field of mechanical equipment retail is the after-sales warranty service. At each Weldcom store, there is always a closed technical service center right at the store to ensure the warranty, maintenance and repair process for customers quickly, accurately and save time. This whole process contributes to leaving a good impression, creating trust so that customers come back for the next purchase and become loyal customers.
Modern retail cannot ignore promotional activities that attract attention and increase customer closing rates. Weldcom's chain of mechanical equipment and hand tools stores always has periodic promotion activities on Tet and holiday occasions at the store and on digital channels (fanpage).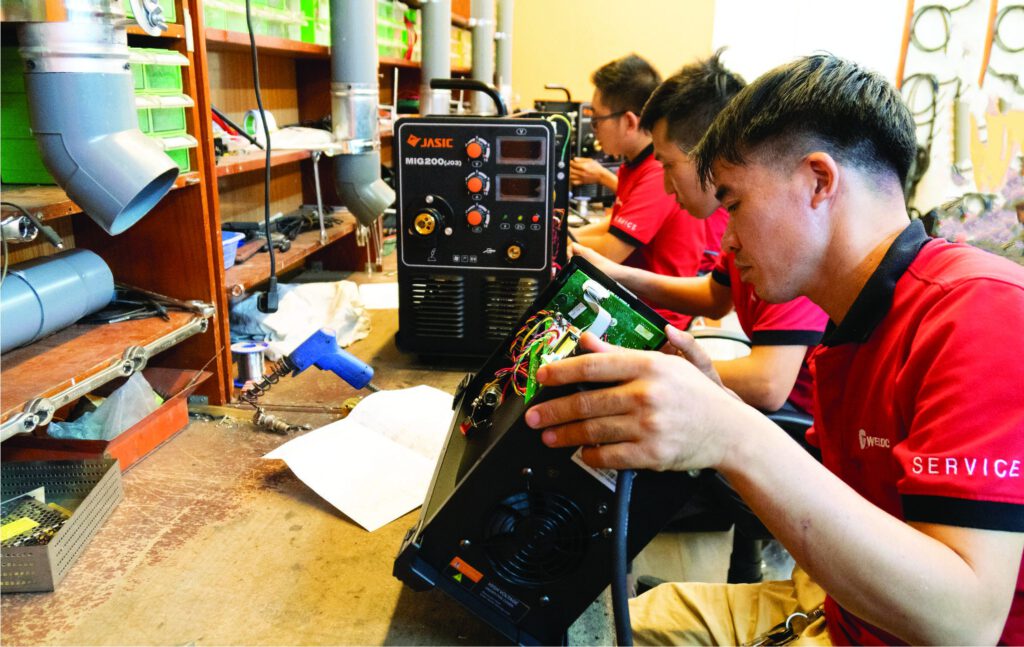 Weldcom technicians support customers with warranty, maintenance and repair right at the Weldcom point of sale
The actual business results of each franchise point may be different, but there is one thing in common of all the points of sale that is the process of operation, sales, and customer care is increasingly being improved.
It is expected that by the end of 2025, Weldcom will "cover" the store system in 63 provinces and cities, significantly contributing to bringing Weldcom's genuine products and technical services closer to customers worldwide. country.
Here is a video about "Customer journey at Weldcom point of sale", invite you to watch:
TIN LIÊN QUAN