WELDCOM EXCLUSIVE DISTRIBUTION OF JASIC LASER WELDING MACHINE
The trend of laser welding is forecasted to explode in the years 2020 to 2025. Weldcom has manufactured and distributed Weldcom branded laser welding machines with all configurations and sizes.
It is forecast that about 50,000 laser welding machines will be on the market within 3 years. This is really in great demand. To diversify products and give dealers more choices, Weldcom cooperates with Jasic to exclusively distribute Jasic Laser welding machines in Vietnam.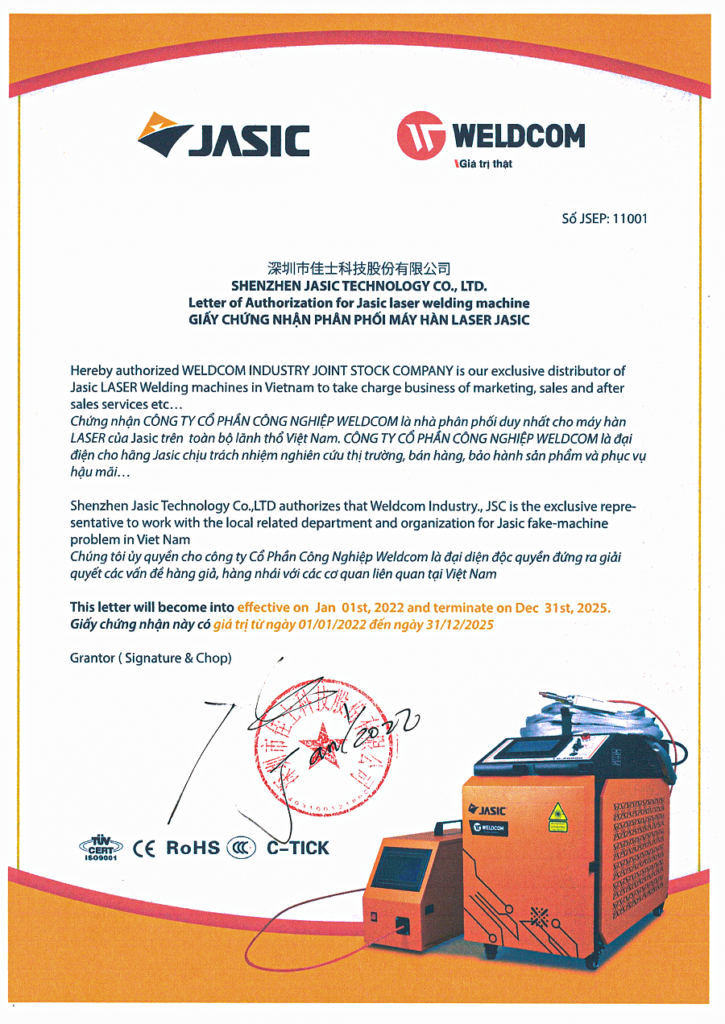 Weldcom's exclusive distribution of Jasic Laser welding machines in Vietnam opens up opportunities for consumers to have more opportunities to synchronously use a series of machines in their factories and companies by the Jasic brand. At the same time, customers have an additional choice with the Jasic Laser welding machine with very few defects or burns due to the heat affected area, less post-weld processing, reducing production costs. The machine gives white, bright welds, 7-10 times faster than TIG welding.
From here, Weldcom also officially undertakes the warranty, maintenance and repair of Jasic Laser welding machines for customers across the country through the system of genuine dealers or Weldcom's stores and branches.
Jasic universal welding/cutting machine brand has been exclusively distributed by Weldcom to Vietnamese consumers since 2011. With its strong relationship with Jasic, Weldcom confidently expands Jasic Laser welding machine products. – the current trend is very hot in the country with the thin plate processing industry. This will certainly be a new milestone not only for the relationship between Weldcom and Jasic but also for the mechanical processing industry in Vietnam.
Let's take a look at the first pictures of the Jasic Laser welding machine:
For more information please contact us:
WELDCOM INDUSTRIAL JOINT STOCK COMPANY
Address: No. 285A Ngo Gia Tu, Duc Giang, Long Bien, Hanoi
Hotline: 19009410
TIN LIÊN QUAN