MEDIUM AND SMALL ENTERPRISES SHOULD OR NOT APPLY ROBOT IN PRODUCTION
The trend of applying automation and robotic solutions in production is taking place very strongly in countries around the world, but in Vietnam, this technology is only popular in large enterprises. The rest, accounting for more than 97% are small and medium enterprises (SMEs), the application of robots is still very limited due to many reasons.
First of all, it must be said that the problem of technological innovation in small and medium enterprises in Vietnam has always been a pain and there is no thorough solution. One of the challenges of this problem comes from the fact that many SMEs cannot access appropriate and official information sources to be fully equipped with knowledge about new technologies, including robotics. Therefore, they still do not know the real benefits of robots in production, the suitability of this technology for the production scale of their businesses, and objective and honest information flows to evaluate and optimally select robots between the "matrix" of advertisements and non-verifiable promises from suppliers… In addition, there is a lack of specific advice and assessment on actual effectiveness before deploying robot applications, it also makes many SMEs afraid and not ready to invest.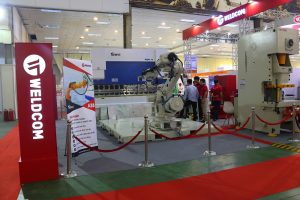 ABB robot picks up the workpiece of the Yawei press machine prominently at VME exhibition
Even if these causes are eliminated, these enterprises themselves have limitations in many aspects such as not having enough investment capital, lack of highly qualified human resources to receive technology transfer  or workers who do not accept change… are all difficulties that slow down the process of automation transformation in Vietnam. Therefore, with all the above reasons, despite the great demand, many SMEs currently do not have enough potential and strategic orientation in this investment process.
Weldcom automation experts in a technology transfer training session for customers
In fact, according to experts, small and medium enterprises are very suitable for the application of automation and robots in production.
Firstly, while large companies require more resources and a stricter plan to change production processes to invest in automation systems, it is the small scale with the flexibility of SMEs makes it easier for them to change and adjust production methods to invest in robots.
Second, it is a fact that there is no single and standardized robotic solution that is suitable for all customer applications and production environments. As a result, each manufacturing process needs to identify specific "pain points" to address and reap real benefits from automation. It is easier for small and medium enterprises to recognize the "knots" that limit production efficiency and once these bottlenecks are solved by automation solutions, it will certainly make a comprehensive change and active production process than before.
Third, the outstanding benefits of using robots for businesses are undeniable. And of course, for small and medium enterprises, these advantages will increase their competitiveness to have advantages that are easier to break through than most other SMEs. Specifically, the application of robots in production will help:
Reduce operating costs
Improve product quality and stability
Improve the working efficiency of workers
Improve output
Increased flexibility in product manufacturing
Reduce material waste
Save production space
Create a safe working environment and improve the health of employees
Reduce dependence on skilled labor resources and difficulties in recruitment
ABB welding robot and application in electrical cabinet welding solution
Especially in the current context, the Covid-19 pandemic has had a great impact on the global industry and changed the mindset of many businesses. Disruptions in production, goods circulation and labor shortages have really awakened and created a higher demand for companies and factories to use robots.
Robot investment is a brainstorming problem for many SME businesses, but it is also the key to helping businesses quickly overcome challenges, seize opportunities and improve competitiveness in the new period. Let Weldcom accompany you to solve this difficult problem.
For details please contact:
Weldcom Industrial Joint Stock Company
Hotline: 1900 9410
Website: weldcom.vn
TIN LIÊN QUAN