LASER WELDING MARKET IN VIETNAM AND OPENING OPPORTUNITIES FOR SUPPLIERS
Integrating with the trend of technological displacement in the world, laser welding machines are creating a highlight in the mechanical loving community and becoming the perfect candidate in processing thin to ultra-thin sheet metal in Vietnam.
Current laser welding market potential
In recent years, laser welding has gradually conquered the market by its outstanding advantages in productivity, precision and high aesthetics. This is currently one of the most advanced welding technologies available today and has the potential to be commonly used in many businesses and factories.
According to a report published on Modor Inteligence, many international experts predict that the laser welding machine market will continuously grow strongly in the period from 2019-2024. In addition, data from Weldcom's research report also shows that the expected market of laser welding will reach 5% of the total market for small-capacity Tig/Mig welding machines, equivalent to 12,500 units/year. Considering the distribution capacity of laser welding machines that hold the No. 1 market share in Vietnam today, Weldcom's expected target will account for 30-50% of the number of welding machines sold in the market in the near future, equivalent to 3000- 6000 machines/year.
Ảnh minh họa
And the fact has shown that this number is completely achievable when in 2021, the number of data customers interested in laser welding machines that Weldcom obtains is up to nearly 7000 data. Also in this year, Weldcom laser welding machine achieved a growth rate of 400%/year compared to 2020, corresponding to nearly 200 machines distributed to the market and is expected to increase many times in 2022.
Weldcom laser welding machine and outstanding advantages are ready to conquer the potential market
Possessing many outstanding strengths compared to other suppliers, Weldcom laser welding machine has conquered a large number of customers and is becoming the number 1 choice for many investors when accessing this technology.
Weldcom is a pioneer in research and development of laser welding applications in thin sheet processing, the first in Vietnam since 2019. Up to now, with accumulated experience and in-depth research background over 17 years in the industry. In the field of mechanical processing, Weldcom confidently masters the technology and can manufacture and assemble to meet the increasing distribution volume. In addition, with the ability to develop a variety of solutions combined with laser welding such as robots, rotary jigs, etc., Weldcom experts are gradually increasing the automation level of the welding process for many businesses, promoting push to expand the customer file to become more and more rich.
Weldcom laser welding machine products
The large and constantly increasing market volume has provided the Weldcom team of experts with a complete database to continuously improve and improve product quality. Along with being integrated with today's leading technologies, Weldcom laser welding machines always achieve stability with high production efficiency.
The nationwide branch network with spare parts and accessories is always available, which will create conditions to quickly respond to the needs of technical support such as replacement, repair and maintenance of machines for customers. As the exclusive distributor of Raycus laser welding and Qilin guns in Vietnam, Weldcom is being authorized by these two units to open an official warranty center in Vietnam. This will further enhance the after-sales service for Weldcom's customers nationwide.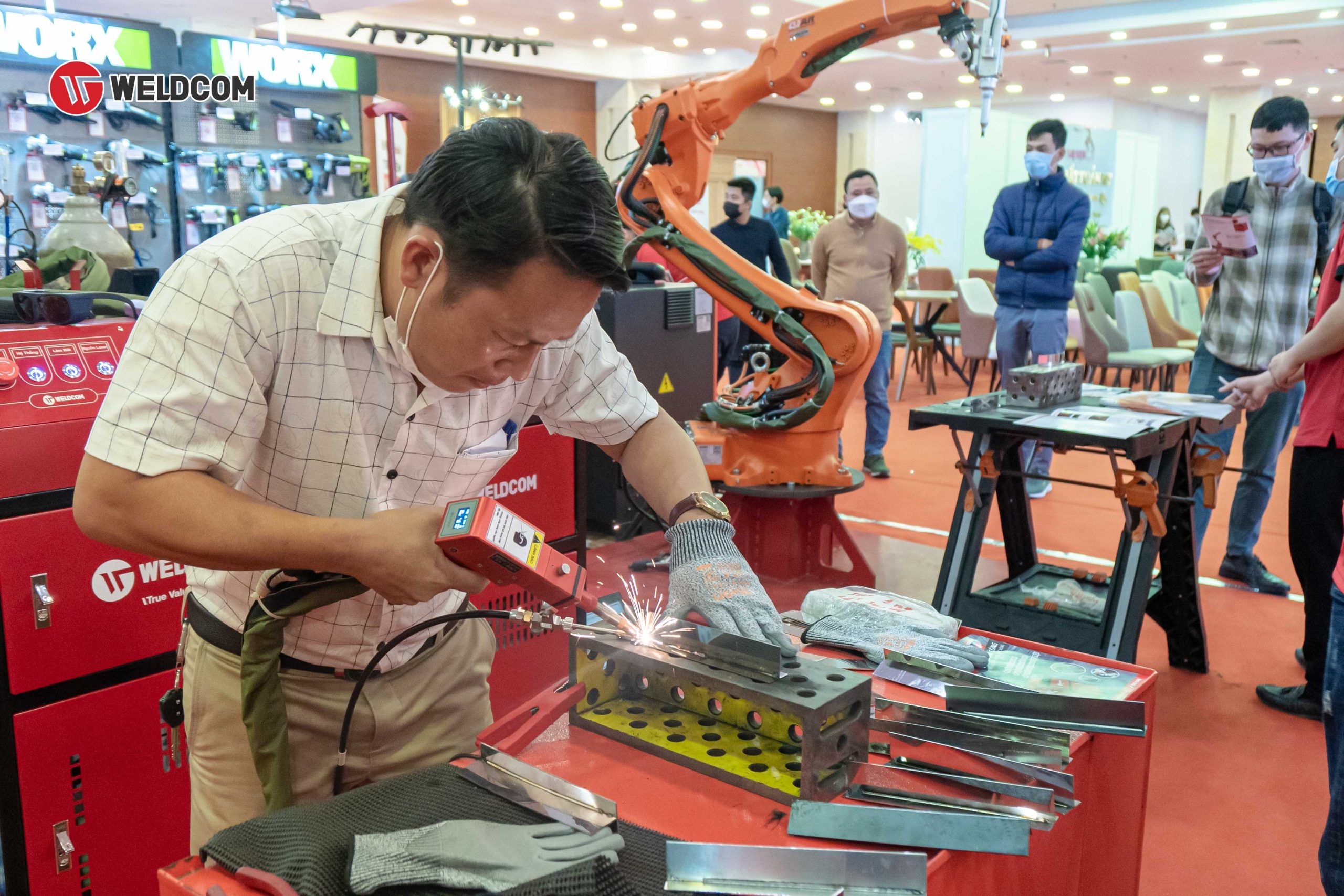 Visiting customers experience products directly at Vietbuild exhibition
With many advantages in technology, technical services and good price, Weldcom laser welding machine is considered the optimal equipment compared to the same product lines in the context of the potential market that is about to explode. This is the golden time for suppliers to be ready to forecast and invest to catch the wave of using Weldcom laser welding machines in the near future.
Contact information: WELDCOM INDUSTRIAL JOINT STOCK COMPANY
Hotline: 1900 9410
Website: weldcom.vn
Address: 285A Ngo Gia Tu, Long Bien, Hanoi
TIN LIÊN QUAN