CPT STEEL with nearly 20 years of establishment and development is a professional contractor in the field of steel structures for factories, warehouses, restaurants and works related to pre-engineered steel buildings, performed in each stage "CONSULTATION" DESIGN – PRODUCTION – INSTALLATION".

CPT STEEL
Currently, CPT STEEL has 3 factories with a total area of ​​7 hectares. The total output of 3 modern 4.0 technology factories, with a capacity of up to 4,000 tons/month, applies a quality management system according to ISO 9001:2015. With a team of nearly 400 experienced and highly qualified employees, who are trained regularly and methodically. When implementing CPT projects, STEEL always maintains and strictly implements the criteria "SAFETY – QUALITY – PROGRESS – OPTIMAL SOLUTION – COMPETITIVE PRICE". Therefore, it has satisfied all the most demanding investors such as: Japan, Korea, Taiwan, Malaysia, Singapore, Hong Kong, Czech Republic, Vietnam,…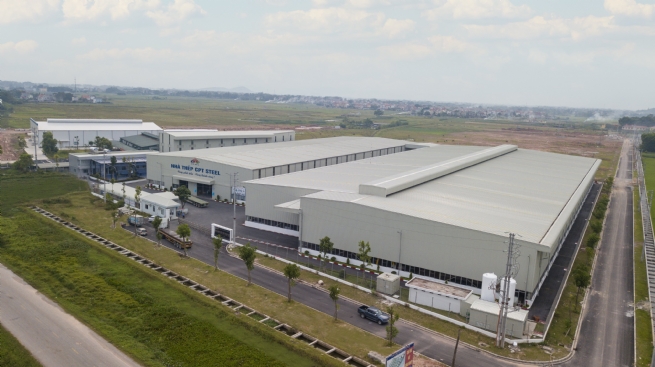 CPT STEEL Factory
CPT STEEL brand has performed more than 500 large and small projects in both size and value across the country. Being recognized and appreciated by customers for the Quality and Service we have provided, now CPT STEEL is a close and long-term partner of large domestic and foreign customers such as JINKO Factory. SOLAR VIETNAM, BW Hai Phong Project….Vietnam Precision Industry Factory 1- VPIC1…
At CPT STEEL, the equipment used is always the most modernized by the enterprise, the products are manufactured by modern closed lines, from the processing of input materials to the finished products. processed by imported machinery system with large capacity, high precision.
GBH4000 S3 smart gantry welding machine supplied by Weldcom for CPT STEEL
CPT STEEL's steel structure processing line system has been supplied, constructed and installed by Weldcom to help businesses meet the strict demands from the market. Mr. Le Viet Hieu – Director of CPT factory shared: "We are very satisfied with the installation progress and quality of services provided by Weldcom and especially appreciate the spirit and working attitude of Weldcom construction and installation staff".