BENEFITS FROM SYNCING WELDING – CUTTING EQUIPMENT AT MECHANICAL MANUFACTURER & WELDING TRAINING CENTER
First appeared in Vietnam since 2011, JASIC welding-cutting machine has quickly proven its superiority and won the trust of millions of consumers. Up to now, JASIC has become the number 1 national brand in the country. The traditional orange color has spread throughout the factories from the North to the South. Possessing a wide range of products, fully meeting different working needs, it is not difficult to realize, many manufacturing workshops as well as mechanical vocational training centers have been using welding and cutting equipment synchronously. This is an effective solution to optimize working efficiency, investment and operating costs.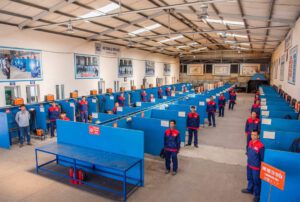 Shorten personnel training time
Up to now, JASIC has been present in more than 80 countries around the world. JASIC's machines are popular and widely used in many major markets and Vietnam is no exception. Therefore, most prestigious vocational schools are equipped with JASIC welding/cutting machines for training activities that are closely related to work practice. Students are exposed and work with genuine JASIC machines early, after graduation, they can quickly get used to working in large-scale factories both at home and abroad without spending time on retraining.
On the other hand, JASIC products integrate the control interface and operation with many similarities. As a result, workers after having contact with one or several JASIC models can quickly grasp and use the new model of the same brand. This significantly reduces training time and costs for businesses, especially those that regularly upgrade or expand the range of welding – cutting equipment.
Consistent product quality
The mixing of many different machine lines in the same factory will cause a lot of difficulties for workers. Simply because each machine brand has a number of distinct features, forcing users to get used to and grasp to be able to use it in the best way. This not only wastes time, but can directly affect the finished product, causing erratic and inconsistent quality.
On the other hand, through decades of research, development and perfection, JASIC machines are all integrated with advanced technologies, for precision and aesthetic welding/cutting. The fact shows that factories choose the synchronous installation of JASIC welding machines for high productivity, uniform and standard quality of finished products.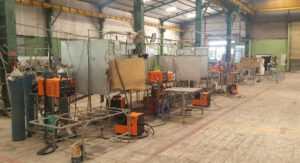 Optimizing costs
Instead of buying a few types of machines in different places with a series of brands each time, working closely with a reputable supplier to equip synchronous machines will bring more economic benefits. . With this option, units will enjoy the best price policies with attractive discounts and useful service packages. Synchronizing equipment also makes maintenance, maintenance, repair & troubleshooting work much faster and simpler.
In Vietnam, Weldcom Industry Joint Stock Company is proud to be the genuine distributor of JASIC products. With a network of more than 1300 distribution agents and many warranty centers nationwide, Weldcom and JASIC are ready to fully meet the needs of consulting, training and repair – maintenance. All JASIC models are warranted by Weldcom for up to 18 months. In addition, ensuring a sufficient supply of genuine replacement parts at competitive prices is also one of the factors that help Weldcom and JASIC win the trust of many businesses.
It can be said that choosing a quality welding – cutting machine brand and a reputable supplier to synchronize the facilities for factories and vocational training schools is the current general trend, the first option. sustainable investment, optimizing many long-term benefits.
Some pictures of JASIC welding-cutting equipment synchronous production workshops: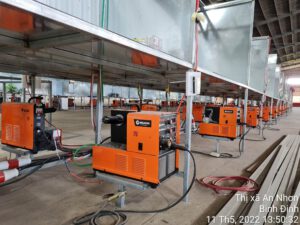 TIN LIÊN QUAN