7 REASONS CUSTOMERS SHOULD CHOOSE YAWEI WHEN DECIDED TO INVEST IN MACHINERY FOR BUSINESS
As a leading supplier of mechanical processing machinery in Vietnam, Weldcom always carefully investigates and evaluates the criteria to choose the most reputable suppliers before signing a cooperation agreement. . Through that process, we realized that it is the following 7 outstanding advantages of Yawei that have created a sustainable reputation for this brand.
So why should customers choose Yawei when deciding to invest in machinery for their business?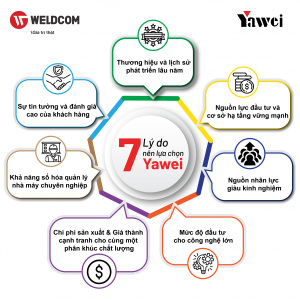 Brand and long history of development
In the field of manufacturing mechanical processing machines, long-term accumulated experience is considered an important measure for brand reputation. Yawei is a leading enterprise in the field of machine frame manufacturing and one of the top 10 mechanical enterprises in China with 65 years of development. Reality has shown that, in developing countries, there are thousands of enterprises entering this industry, but only about 3-5 manufacturers have existed for more than 50 years like Yawei. Up to 95% of machine-building enterprises survive only the first 5 years, which corresponds to the boom period of an emerging class of equipment. This is considered too short a period for improvement and accumulation of experience, technology research and cannot guarantee long-term benefits of after-sales service for customers.
In contrast, for established brands like Yawei, each product brought to market is the accumulation of the knowledge and experience of many generations of experts. Therefore, choosing reputable brands like Yawei is buying the core values that have been accumulated for a long time, buying the safety, prestige and effectiveness that have been experienced over the years.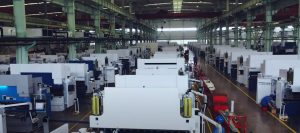 A corner of Yawei factory is more than 400,000 square meters
Investment resources and strong infrastructure
Yawei has a factory of more than 400,000 square meters with a system of modern processing machines and equipment worth more than 150 million USD from the world's leading brands, operated under strict control processes and closed to create a synchronous infrastructure system to ensure the manufacture of high-precision, stable and solid mechanical frames.
Most manufacturers in China have to outsource and reassemble to create a mechanical frame for the machine, leading to a difficult situation of quality control and ensure operational stability.
This is also the reason why the actual performance and durability of the machines of these brands are often different and there is no uniformity in quality. The same example is a CNC laser cutting machine with a profile of 1.2G acceleration – a maximum speed of 60m/min and the same configuration, but in reality there is a case where a machine runs with an acceleration of 1.0G. and the maximum speed of 50m is stable and the other machine when accelerating to 0.8 G/Speed 40m/min, there was a phenomenon of camera shake that could not run for a long time.
In addition, for continuous supplier evaluation coordination, Weldcom has opened its representative office in Shanghai, China to ensure Yawei products when coming to the Vietnamese market, there is the perfect service and the best quality – something that no commercial company in Vietnam can do.
Experienced human resources
While many mechanical machine manufacturers follow orders with seasonally trending products, often solving the human resource problem by massively recruiting new employees who lack skills and experience, Yawei has a strict production process with high standards and a large output that is constantly growing over the years, so it ensures stable human resources all year round. Yawei's human resources are strong and experienced, undergoing extensive recruitment and training, and in-depth research and development on its technology over the years, so it possesses high professional competence and is easy to master and develop technology in a sustainable way.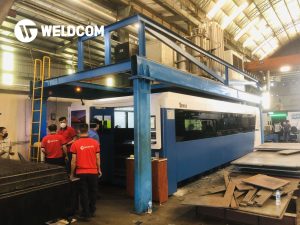 Weldcom technical team and expert Yawei in the installation session of the largest 20KW laser cutting machine in Vietnam
The level of investment for technology development is large
As the leading brand in the industry providing comprehensive solutions for sheet metal processing with many product categories based on research and development, over the decades, Yawei has always devoted a large budget to investment. Research and develop new technology with continuously improved quality. Especially, Yawei cooperates with the world's leading technology firms in the plate processing industry such as Prima-power of Italy for laser cutting machines, SMS of Switzerland for bending machines, Nissinbo- Japan for punching machines and Kuka of Germany for robots & automation… should always affirm its position as one of the leading companies in new technology trends with product quality close to the Japan- segment.
Production cost & Competitive price for the same quality segment
It can be easily seen that some time after a new technology is launched on the market, it will definitely go through a stage where the technology is popularized. The sheet processing industry is no exception to this rule. At this stage, technologies are used for the components of sheet processing machines such as laser source, torch, control system, cooler, etc.
At this point, if you compare Yawei machines with other manufacturers in the same segment, you will see that: it is the difference in infrastructure, long-term research capacity and accumulated experience in mechanical frame manufacturing together. Human resource qualifications are the factors that make a clear difference in the quality of Yawei's products. The position and quality reputation maintained for decades is an absolute advantage for Yawei to surpass many competitors and compete with a few other brands with full sheet processing solutions such as Trumf, Amada , Bystronic, Salvaghini, Prima.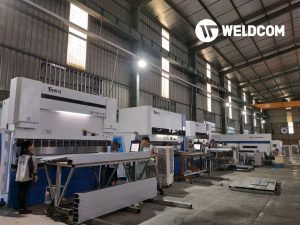 Some pictures of Yawei machinery provided by Weldcom to businesses in Vietnam
Professional factory management digitalization capabilities
Yawei machines are integrated with Sigmanest software by Weldcom & Sigmatek (the world's leading CNC machine software brand in the US) for optimal operation and material management, reducing the rate of Thread C from 3%-7%, reduce material consumption by 5-10%, reduce machine operation time and labor cost/output many times compared to other popular Chinese machines using cheap or free software. In addition, this software system is ready to be upgraded with many features to increase the level of machine automation, material management, warehousing, quotation, operation monitoring and production indicators, connect IoT and be ready for the digitization of the factory as well as the digital transformation of operation and corporate governance of the investor. This greatly increases the competitive advantage for investors.
The trust and appreciation of customers all over the world
Being a famous global brand and continuously receiving many prestigious awards in China as well as in the world is the clearest proof of the trust of customers in Yawei's products. In the Japan- segment, it is the stability and persistence of quality and professional services, strong technology development capacity and long-term accumulation of experience that have created Yawei's strong foothold in the market with investors.
If you want to learn about Yawei products distributed by Weldcom, please contact:
WELDCOM INDUSTRIAL JOINT STOCK COMPANY
Hotline: 1900 9410
Website: weldcom.vn
Address: 285A Ngo Gia Tu, Long Bien, Hanoi
TIN LIÊN QUAN