Fronius stands for new technology, in-depth research and revolutionary solutions. Founded in 1945, with a tireless creative spirit and a deep sense of quality, Fronius has always been a driving brand in welding, photovoltaic and battery charging technology and setting trends. market change.
A headquarters of mechanical brand Fronius in Germany
Over the decades with many ups and downs, development, Fronius has gradually expanded its business areas and grown stronger. Today, Fronius focuses on three main areas: Welding technology, solar power, charging technology and energy storage.
In 1992, Fronius entered the renewable energy/solar power sector. The first inverter "Sunrise" was born, marking an important step forward. Since then, Fronius has focused on researching and continuously introducing breakthrough technologies and products in the field of inverters for solar power.
Fronius always takes the orientation of "creating a better world" as the guiding principle for development. For decades, to be able to solve environmental, energy,… They have always been creative, working hard to come up with innovative technologies and revolutionary solutions. . All of their products and services are made, the top orientation is for the benefit of all mankind.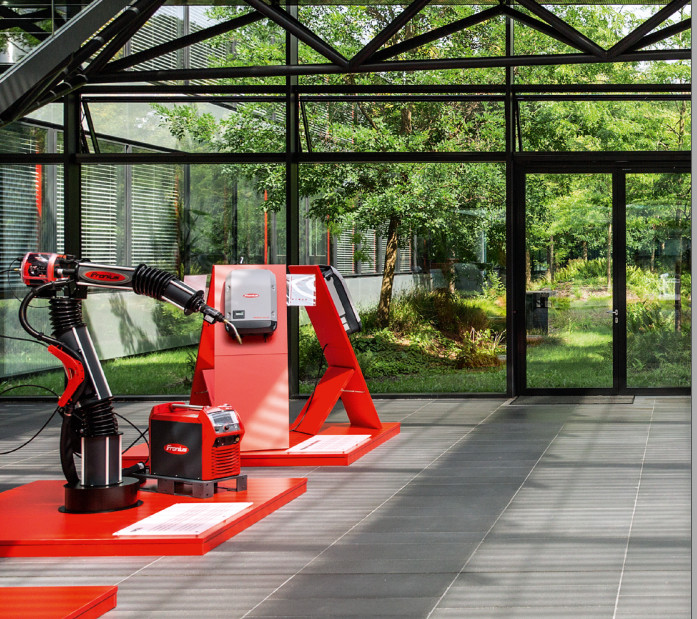 Fronius products are environmentally friendly and solve society's problems
In 2020, the brand achieved memorable milestones such as being based in 36 countries around the world and exporting to countries up to 92%. Besides, the number of employees is up to 5,600 people with high professional qualifications, owning 1321 patents and Fronius' sales reached 849 million Euro.
In order to bridge the technology gap in the world and in Vietnam, Weldcom officially became a strategic partner to distribute Fronius products, typically the Vinfast project was distributed by Weldcom to serve the assembly of electric vehicles and buses. . Besides, with the motto that customer is number 1, Weldcom is confident to be a solid bridge to bring the Fronius brand to many manufacturing enterprises across the country.