POTENTIAL RISKS WHEN ENTERPRISE IMPORT MACHINERY FROM CHINA SUPPLIERS
China is still the largest import market for Vietnam's machinery, mechanical equipment, tools and accessories. According to the report of the General Department of Customs, in the first 8 months of 2021, these items still lead in the groups of industries imported from China with a total import value of 16.73 billion USD. Participating in this huge import flow, what will be the optimal choice for a mechanical enterprise in Vietnam in the process of purchasing machinery and equipment for production for their business?
The way of Chinese machinery into Vietnam
Chinese industrial machinery and equipment have three main routes to Vietnam. Firstly, Vietnamese enterprises directly import machinery from Chinese manufacturers, then hire a freight forwarder to bring the machines to use. In this way, businesses will have to take care of all stages including sourcing goods, contacting manufacturers, implementing commercial contracts before handing over to the shipping unit.
The second way, businesses can import goods through third parties, which are Chinese trading companies. Finally, businesses can completely choose to buy goods through genuine distributors, authorized trading companies in Vietnam. With these two ways, trading companies or their distribution representatives will have the task of working directly with manufacturers to sell goods to Vietnam.
It is easy to see that nowadays, when communication technology is developing more and more, it is no longer too difficult to directly import machinery or buy goods through Chinese trading companies. The main motivation for businesses to buy goods in these two ways mainly comes from the easily accessible information flow and attractive prices. But in fact, the trap of "buying at the root" is potentially risky for businesses.
Potential risks when importing machinery by yourself or purchasing from Chinese trading companies
Information risks: Mechanical machinery manufacturing is a field with a very high entry rate. However, this is also an industry with a large bankruptcy rate. In fact, in many developing countries there are thousands of enterprises entering this industry, but only about 3-5 manufacturers exist for more than 50 years and only 5% of machine-building enterprises exist for more than 5 years. . Specializing in supplying industrial machinery for many companies and mechanical factories in Vietnam, Weldcom has also experienced many real stories in the industry on this issue. Specifically, many manufacturers still list transaction information on the media but in fact have gone bankrupt and no longer operate. Absolute trust in the information flow posted without assessing the reputation of the manufacturer will create huge risks in investment when enterprises themselves import machinery from China.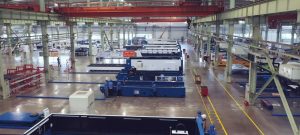 A corner of Yawei factory – China's leading CNC machine manufacturer, exclusively distributed by Weldcom in Vietnam
Risks during transportation: Industrial machinery and equipment are items that require very high requirements during transportation. If you hire an unprofessional transporter and let strong impacts occur, it will lead to many serious consequences such as: reduced durability, reduced accuracy of the device, many features of the device may be faulty and the quality is not guaranteed during operation… resulting in the productivity and durability of the machine will be severely affected, the life of the machinery will be reduced. After all, these risks are borne by the buyer, increasing production costs and reducing investment efficiency.
Purchase risks: First of all, we have to recognize that production machinery and equipment are items of special nature. This is a commodity that can't just stop at "buying and selling at a time". In fact, after the purchase process, many new problems really arise.
– About installation support: For companies that import machinery directly from China or through trading companies in this country, mostly after the goods are successfully transported, they completely lack the support force to install. Lack of a team of skilled technicians and experts, not having a deep understanding of technology to be proactive in installation… led to many cases of imported machines worth billions of dong still lying idle.
and can't go into production yet. Even if there are some manufacturers who send experts to support the installation business, disagreements over language, lack of communication and in-depth training… also cause countless difficulties, especially for small and medium enterprises. At this time, there have been many cases where businesses had to rush to hire outside installation units or look for good technical teams in Vietnamese commercial companies, including Weldcom to provide installation services.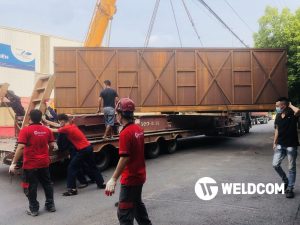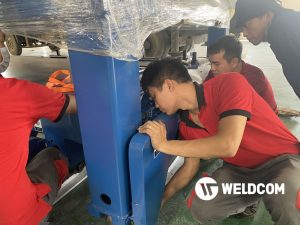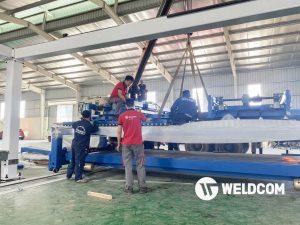 Some pictures of Weldcom technical team handing over and installing machines at the factory to customers
– About warranty, maintenance and repair, replacement of accessories: Similarly, even if the installation process is not supported, when problems arise that need repair, replacement of accessories and warranty, For maintenance, enterprises also have to mobilize themselves because they do not receive support from the manufacturer in time if they import machinery in the two ways above. Production stopped due to machine breakdown, difficulty in finding replacement parts leading to loss of money… are the cases that investors need to consider carefully before deciding which way to buy machinery.
It turns out that the attractive price that attracts investors to choose to import machinery by these two paths lies in the costs of technical services, warranty and maintenance costs…
received the cut they should have received. At this point, the price advantage of machinery and equipment when imported directly or indirectly through a Chinese trading company seems to no longer make sense in comparison to the costs and countless risks for investors.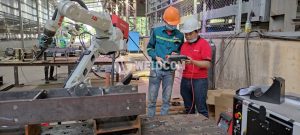 Training and technology transfer is an indispensable process before customers take over the machines
Buying machinery from genuine distribution representatives in Vietnam – the right direction to help investors feel secure
Among the trading companies operating in the field of supplying mechanical equipment in Vietnam, only reputable and capable units are able to open their representative offices in foreign countries. Become a bridge between customers and manufacturers.
With the advantage of scale and 16 years of persistent operation in the industry, Weldcom Industry Joint Stock Company is one of the few suppliers in Vietnam with a representative office in Shanghai, China with a specialized department to regularly connect and verify the prestige of the manufacturer, ensuring that all the machines we provide to the customer's factory are of the best quality with the highest support. Weldcom builds a team of experts, skilled technicians and masters the most advanced technologies, helping to meet the maximum needs of customers for installation and repair of machines.
In addition, we are the first supplier in Vietnam that has a policy of investing huge costs in genuine spare parts to serve customers during maintenance and repair time so as not to interrupt. production activities of the enterprise. With the business principle of developing together with social progress, Weldcom is willing to take responsibility and take its own risks in the process of cooperation and customer service.
TIN LIÊN QUAN