Tongtai, one of the leading brands of TTGroup, provides customers with complete machines, total solutions for different industries and attentive service around the world with branches. Established in 1969 in Kaohsiung, Taiwan and became a listed company in 2003, the brand started with machinery manufacturing and today, Tongtai is one of the leading machinery manufacturing companies. with the largest scale in Taiwan.
TongtaiGroup is headquartered in Kaohsiung Taiwan
The brand has a wide range of products, including vertical/horizontal machining centers, vertical/horizontal lathes, multi-function machining centers, lathes, milling and auxiliary metalworking equipment, and PCB machines. , and laser processing equipment, help Tongtai provide the first-class solution for any needs from customers.
Tongtai products have been tested by leading manufacturers in the world such as BMW, Volkswagen, Bosch, GETRW, Aviation, Rolls-Royce,,…. To satisfy global customers with thoughtful technical and business service, Tongtai has established branches in the Netherlands, Romania, China, Japan, Malaysia, Indonesia, Thailand, Vietnam and More than 60 global service business networks.

Tongtai's products have modern and beautiful designs
Tongtai owns three factories located in Luzhu Technology Park in Kaohsiung, and overseas manufacturing factory – TongYu is located in Suzhou, China. The Group always emphasizes "Innovation" as the key to development, which can be clearly seen by investing 3-5% of the annual budget in R&D. Based on years of technology and experience, Tongtai has obtained 73 patents in Taiwan, Japan and other countries…. Notably, TTGroup's revenue reached NT$8,827,097 thousand in November 2021, up 27% over the same period in 2020.
With the spirit of creativity and continuous improvement, Tongtai continuously received many noble awards: Top 100 Taiwan Brands by the Department of Foreign Trade, Ministry of Economic Affairs, Taiwan Potential Brands, CNC Lathes and centers vertical machining received the Taiwan Excellence Award – "Taiwan Excellence" awarded by the Ministry of Economy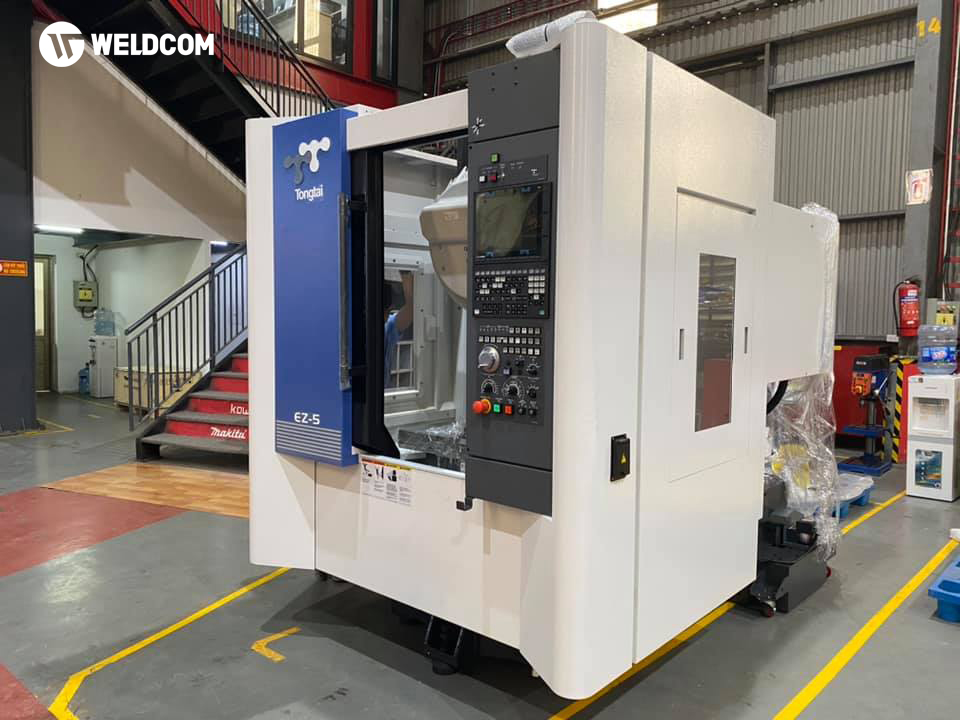 Tongtai EZ Series hole punch CNC milling machine is being distributed by Weldcom in Vietnam
In Vietnam, Tongtai has trusted to cooperate with Weldcom to become the official distributor of milling machines, lathes, etc. At the same time, authorized to provide "turn-key projects", Weldcom is confident to bring to customers. Vietnamese mechanical enterprises with international quality products and excellent services.